Black Ice Retrievers is a small Christian Family-owned operation. We owe our success to Jesus Christ, our Lord and Savior, for without HIM, we are nothing. I have owned and trained Labradors since 1983. My wife and I have been breeding Labradors since 2001 for the sole purpose of improving the Labrador breed as a whole.
What do we mean by "improving the breed as a whole?"
We are glad you asked. When I first thought about breeding Labs, one of my early mentors, the late George Kane, told me his definition. Now, more than two decades later, we bring to light that definition with every decision we make. There are three primary things we believe improve this great Labrador retriever breed:
At Black Ice Retrievers, we publicly display our bloodlines intelligence at each and every event our dogs compete at including American Kennel Club (AKC), United Kennel Club (UKC), Hunting Retriever Club (HRC), American Pointing Labrador Association (APLA), Bird Dog Challenge (BDC), United Field Trial Association (UFTA), National Upland Classic Series (NUCS), etc.
Dogs that we personally own have competed in more than 1,200 stakes in just the last ten years.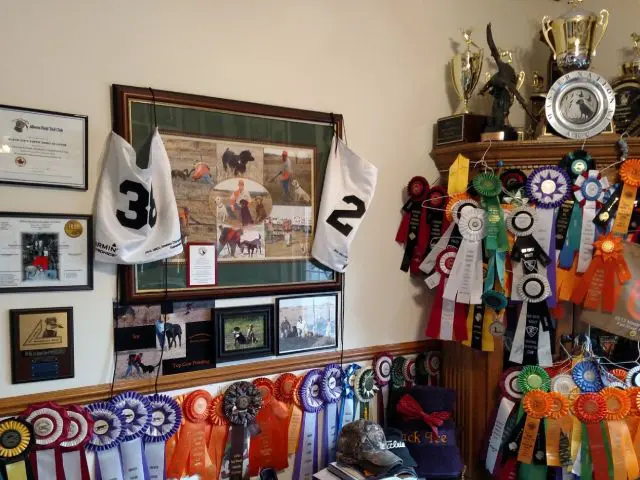 Why go to all that time, trouble and expense? Because that Sire or Dam is only as good as their last series or stake they ran in. So, week in and week out, you can find our Sires and Dams competing in various venues all over America and Canada.
As one of our repeat customers told me, "You guys walk the talk.". "Chris", he said, "Never change what you do, nor how you do it. You always have and always will, set the standard for other breeders to follow. You certainly have the records and so many accomplishments to prove it."
"WOW", I said "Thank you for saying that. I never thought about it that way." We have been very blessed and we thank the Lord for all our blessings to date and all our future blessings. Proverbs 16:3 says, "Commit your work to the Lord, and your plans will be established."
Our passion for our Labradors and their development is a true labor of love. Nothing comes easy, and we always take the road less traveled. "And all these blessings shall come upon you and overtake you, if you obey the voice of the Lord your God." --Deuteronomy 28:2
We at Black Ice Retrievers are so thankful and blessed. The good Lord has blessed us with so much. Here are just some of the accomplishments the Lord has blessed our dogs with: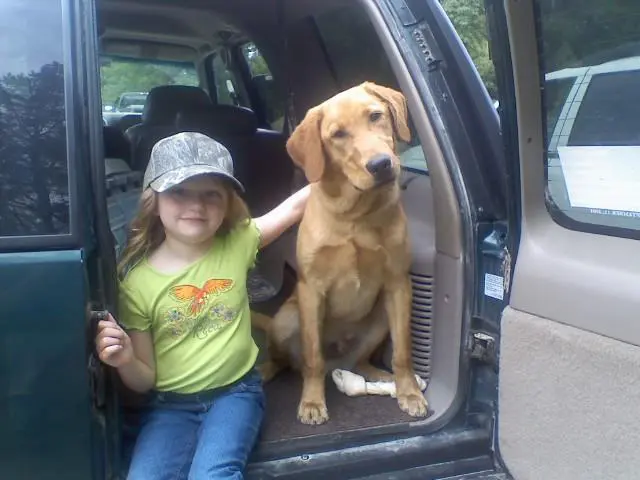 Have you ever gone to a hunt test or field trial, and learned that you had the youngest dog competing in that event? It sure makes you feel very proud and blessed. Well, Scooter was absolutely "the youngest dog at each and every event" he ever ran in while earning his SHR, CPR, JH, APR, SH, MH, QAA, and QA2 titles. Simply amazing!
Again, we are so blessed. That apple in Scooter sure didn't fall far from the tree of GMPR, HRCH 2xNC Reno's Black Ice MH and FC AFC Calumet's Super Sonic.
FC HRCH Black Ice's Carbon Copy of Ammo Mud Bud "Buddy" MH
If you're interested in a pup sired by Buddy check out our "Up Coming Litters" page.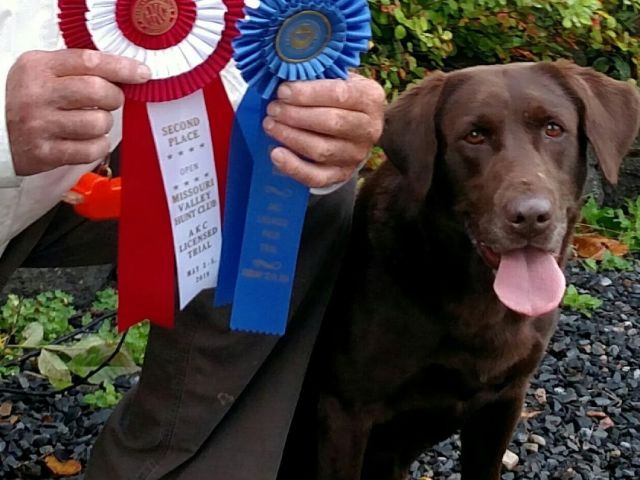 Indeed, we have been very blessed, to say the least, with some of the healthiest, intelligent pointing labs we could find. We have a support team of multiple awesome professional trainers and great friends who share our unquenchable passion for helping Black Ice Retrievers produce the most intelligent decorated pointing Labradors in the country.
We take the responsibility, investment, and extensive research, which all go along with our goal, extremely serious. Sometimes, we have waited close to three years across multiple repeat breedings just to get the exact one pick of the litter we desire. This was the case in our selection of our great Chocolate male named Mud Bud – "Buddy."
"Black Ice's Rainmakers Come on Baby Light My Fire MH "
Here was Fire at 8 weeks old. How's that for a pup with natural carry?
I am originally from the "Show me state," of Missouri. I grew up hunting ducks off of the Missouri and Mississippi Rivers in St. Charles. This is where if your lab could not handle multiple marks and blinds, you and your dog were not invited back. True!
We have some of the highest standards in the industry. While other lab kennels breed great grandchildren, grandchildren, and daughters of well accomplished dogs, we only have litters from dogs that are well accomplished themselves.
We prove that your puppy's immediate parents are highly intelligent, and we just don't breed them like the majority of breeders do.
Why do breeders promote puppies from unproven parents? Primarily two reasons; first, they don't promote the parent's intelligence because it simply might not be smart enough to do advanced work. Second, the testing of the dog takes time, effort, and investment.
BUYERS, BEWARE! There are only two types of lab breeders; those that breed for quantity 
AND THOSE THAT BREED FOR QUALITY. You need to decide for yourself what type of buyer you are and then do your research.
This industry is very competitive, and you can buy a lab from just about anywhere, but you get what you pay for. Our best customers are families who simply want the best possible dog for the dollar and take the time and effort to make the best informed buying decision possible.
Thank you for visiting our website. We hope you enjoy browsing through all the details of our proven brand. If you have any questions or comments, please feel free to reach out to us. Our contact information can be found on the  Contact page.
May God Bless you and your families. We are "the kennel with the unfair disadvantage." If you want to know why, I would ask that you reread this home page from top to bottom. God Bless!